Vanguard & Gamescom: svelati i primi dettagli su Champion Hill! Preoccupa il "Blind Fire" in BR e Multiplayer
WhatsApp
Champion Hill e Blind Fire – Nel corso della Gamescom, i devs di Activision hanno mostrato al grande pubblico diverse interessanti novità che riguardano il nuovissimo Call of Duty Vanguard, nuovo titolo del franchise in uscita il prossimo 5 di Novembre.
Durante la giornata di Giovedì abbiamo ad esempio visto in anteprima assoluta la missione di Stalingrado della modalità campagna (la mode single player per capirci, ndr) con protagonista la cecchina d'élite della 138esima Divisione Fucilieri dell'Armata Rossa Polina Petrova.
Tra le novità intraviste nel gameplay, non è passata inosservata la nuova funzione del "Blind Fire", grazie alla quale sarà possibile sparare "alla cieca" comodamente riparati dietro ad un divano o ad un muro. All'interno della modalità campagna un'aggiunta del genere non può che rendere il tutto ancora più realistico e coinvolgente, ma cosa potrebbe succedere se la Blind Fire venisse applicata anche nel multiplayer o nel battle royale?
A porsi questa domanda è, oltre agli altri, il celebre Jgod, in parte preoccupato dal fatto che il blind fire in multiplayer potrebbe causare tantissimi grattacapi ai giocatori ed il perchè è presto detto: la caratteristica di questa tecnica di sparo è che garantisce la massima copertura a chi fa fuoco (quando si spara alla cieca la testa del nostro operatore, cosi come tutto le altre parti del suo corpo ad accezione delle mani e di una piccola porzione di braccio, sono totalmente coperte dietro ad un riparo)…di fatto impedendo a chi "subisce" i colpi di poter rispondere all'aggressione.
Certo non si potrà godere di una grande precisione nei colpi, ma lo stesso Jgod ha fatto notare quanto potrebbe essere abusata questa meccanica sfruttando armi particolarmente precise e letali anche se usate senza mirino.
Al momento non si ha la certezza che il Blind Fire venga aggiunto anche al multiplayer o al battle royale, ma sarà certamente interessante capire come gestirà questa situazione Activision al fine di evitare qualsiasi problema.
Il video di JGOD sulla questione
L'anteprima di Champion Hill
Oltre al gameplay della missione di Stalingrado, i devs di Sledgehammer games hanno anche svelato un interessante anticipazione rispetto a quelle che saranno alcune delle armi, delle mappe, dei perk e degli equipaggiamenti che avremo a disposizione in Champion Hill, una nuova modalità "Arena" in cui 8 team da 2/3 giocatori si dovranno sfidare a turni fino a quando non resterà in piedi una sola squadra.
Gli operatori disponibili saranno 4, ovvero Lucas Riggs, Polina Petrova, Wade Jackson o Arthur Kingsley, con l'assegnazione che sarà del tutto casuale, mentre le mappe che verranno giocate saranno certamente quelle di Courtyard, Trainyard, Market e Airstrip.
Tra i perk che potremo giocare ritroviamo Ghost (che ci renderà non rilevabili da UAV, aerei spia e microfoni da campo), l'High Alert (la nostra vista pulserà quando verremo visti da dei nemici fuori dalla nostra visuale) o il Double Time (che ci raddoppierà la durata dello scatto tattico), mentre per quanto riguarda le armi queste saranno disponibili in due set separati che ruoteranno di partita in partita.
Ecco i dettagli comunicati nel post ufficiale:
Call of Duty®: Vanguard's Champion Hill Alpha is live this weekend from August 27th at 10 AM (PT) to August 29th at 10 AM (PT) and it's free for all PlayStation 4 and PlayStation 5 players. Also, it's available for pre-load right now, so be sure to go and download it before it starts tomorrow!
We've had a great time creating Champion Hill, the internal playtests have been tons of fun, and we're extremely excited for fans to get their hands on this all-new experience. Please keep in mind that this is a small slice of what players will experience in the upcoming beta and launch, however you will be able to experience many of the core systems of Vanguard MP for the first time. We couldn't be more excited for everyone to play it. Let's get into it!
WHAT TO EXPECT 
The Champion Hill Alpha is the first public technical test of Call of Duty: Vanguard. It's designed to provide the development team with valuable data points as we continue to tune our MP experience heading into the Worldwide Reveal of Vanguard Multiplayer and the Beta coming in September. Please note that everything you'll see, hear, and play in the Alpha is still in development. If you experience anything that doesn't feel right when playing this weekend, please let us know. We'll be actively monitoring the official Sledgehammer Games Twitter account for any feedback relative to weapon tuning, perks, balance, and spawns. Don't hesitate to reach out.
We're so excited for everyone to get their hands on Champion Hill and there's a ton of content to dig into over the 48-hours of the Alpha! Here's a preview of what's included –
CHAMPION HILL MAPS
Courtyard
Trainyard
Market
Airstrip
PLAYLISTS
Champion Hill (Duos and Trios)
WEAPONS
Weapons are persistent through matches. There are ten upgrades per weapon and each weapon upgrade adds one attachment.
Weapon sets will rotate. Both Weapon Set 1 and Set 2 include: ARs, LMGs, Shotguns, and Pistols.
EQUIPMENT
MK2 Frag Grenade: Cookable Fragmentation Grenade.
No. 69 Stun Grenade: Slows victim's movement and aiming.
Throwing Knife: Retrievable knife that is lethal when thrown at the body or head.
Gammon Bomb: Impact Grenade.
MK V Gas Grenade: Explodes on impact with the ground, releasing a lingering cloud of gear gas that causes slowed movement, blurred vision, and coughing.
S-Mine 44: Proximity-triggered explosive.
PERKS (PERSISTENT THROUGH MATCHES AND YOU CAN BUY UP TO SIX PERKS):
Ghost: Undetectable while moving by Spy Planes, enemy intel, and Field Mics.
Survival Training: Maximized resistance to stun effects. Immune to gas.
High Alert: Your vision pulses when enemies outside of your view see you.
Tracker: Enemies leave behind a footprint trail. See markers at enemy death locations and hide the death markers of enemies you kill.
Demolition: Extra lethal on spawn. Thrown lethals display an indicator showing the path of the lethal.
Double Time: Double the duration of Tactical Sprint. Increase crouch movement speed by 30%.
STREAKS (ACTIVATED AUTOMATICALLY IN THE NEXT MATCH AFTER PURCHASE):
Spy Plane: Calls in a spy plane which reveals all enemy positions on the minimap to allies. Can't be shot down. (This automatically activates in the next match.)
Flamenaut: Receive a flamethrower with unlimited fuel and a protective suit. Both lost on death. (This automatically activates in the next match.)
Deathmachine: Equips a machine gun with explosive rounds and a fixed number of bullets. Persists through death until ammo is depleted. (This automatically activates in the next match.)
V2 Rocket: Activates instantly, and drops a V2 Rocket, killing all players and ending the match.
Extra Life: Gain 1 additional life for your team.
Armor Plate: A single piece of Armor.
Full Armor: Full set of armor plates.
OPERATORS
Note: Operators will be randomly assigned.
Lucas Riggs
Polina Petrova
Wade Jackson
Arthur Kingsley
MORE INFO!
If you're interested in more information about how to play Champion Hill and how to download the Alpha, please visit the Call of Duty Champion Hill Alpha blog.
CALL OF DUTY: VANGUARD – MULTIPLAYER REVEAL & MP BETA
There are plenty of surprises around the corner that you won't see in the Alpha. But don't sweat it, we'll be revealing Call of Duty: Vanguard's full Multiplayer offering at our MP Reveal scheduled for September 7th, 2021. Following the MP Reveal on September 7th, we're opening the Beta up for Early Access to folks who pre-order Call of Duty: Vanguard – see schedule and pre-order link below: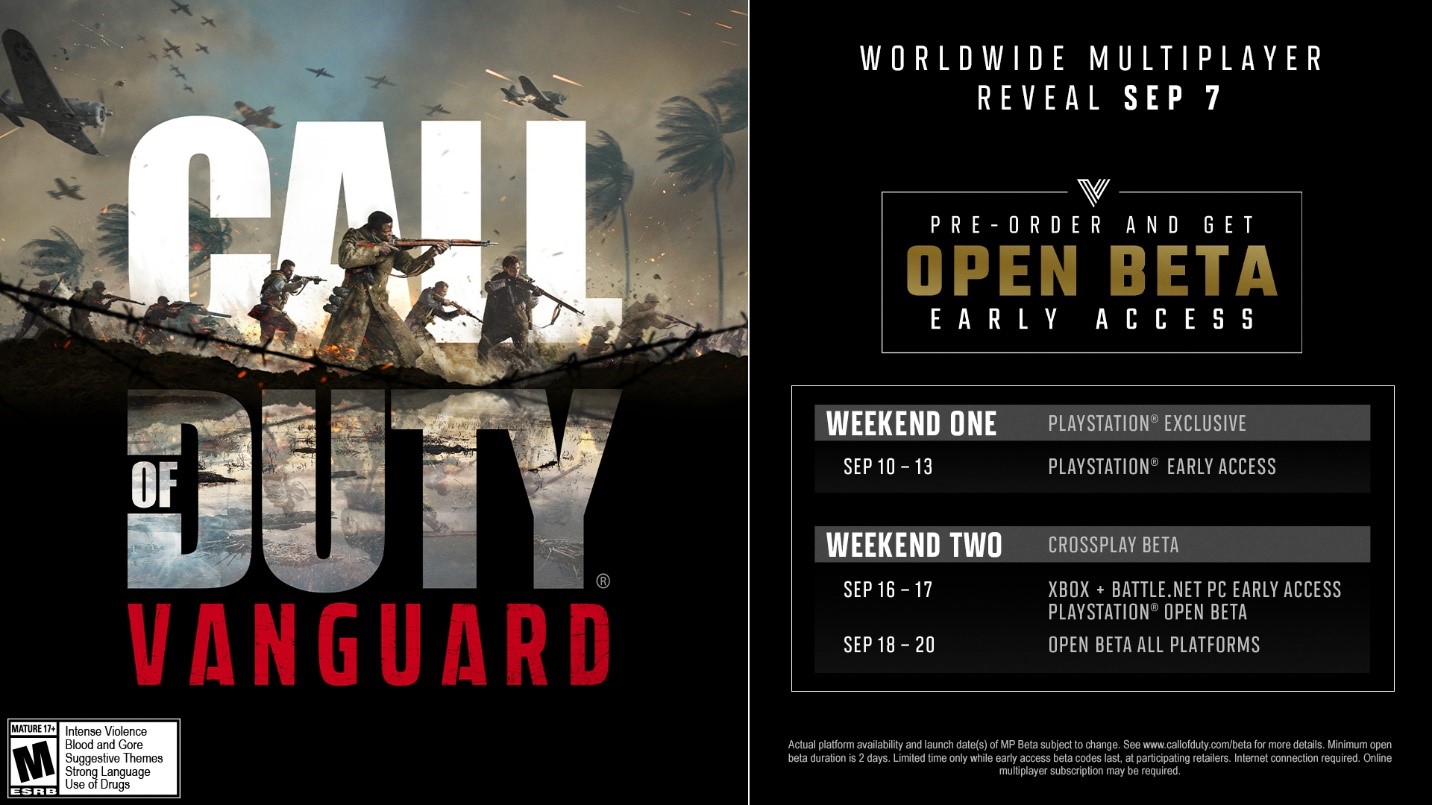 Cosa ne pensate di queste novità community?
Anche a voi preoccupa la questione legata al Blind Fire nel caso questo venisse aggiunto al MP/BR?
La discussione, come sempre, è assolutamente aperta!
Articoli correlati: 
Gli articoli di questo sito sono stati realizzati utilizzando
Asus ROG G701
WhatsApp