Blaze, ecco Talenti ed abilità del nuovo eroe di HotS
WhatsApp
In questo nuovo articolo andiamo a scoprire le abilità, le abilità Eroiche ed i talenti (per il momento solo in lingua inglese) relativi al nuovo eroe di Heroes of the Storm proveniente dal mondo di Starcraft 2…il Guerriero Blaze.
Cosa ne pensate community? Come vi sembrano le abilità ed i talenti di questo nuovo eroe?
Il caporale Miles "Blaze" Lewis è sempre stato attirato dal fuoco, ma le sue tendenze piromani hanno trovato un'applicazione solo quando si è unito ai Randagi di Raynor. Da quel momento ha affrontato innumerevoli scontri, e la situazione non è mai stata troppo calda per lui.
Level 1
Adrenaline Stimpack (Active, Cooldown: 30 seconds)
Activate to gain 100% Attack Speed and 25% Movement Speed for 5 seconds.
Endurance Stimpack (Active, Cooldown: 40 seconds)
Activate to gain a Shield that absorbs 450 damage over 5 seconds.
Neural Stimpack (Active, Cooldown: 40 seconds)
Activate to gain 50 Mana and cause Ability cooldowns to recharge 100% faster for 5 seconds.
New Habits (Trait)
Collecting Regeneration Globes reduces the cooldown of Pyromania by 5 seconds.
Quest: Collect 15 Regeneration Globes.
Reward: Pyromania grants Unstoppable for 2 seconds.
Level 4
Feeding the Flame (Q)
Each enemy Hero hit by Flame Stream reduces the cooldown of Oil Spill by 1.5 seconds.
Adhesive Petroleum (W)
Enemies standing in Oil Spill when it is Ignited are Slowed by 30% for 2.5 seconds.
Oil Dispersal (W)
Increase Oil Spill's area by 20% and Slow amount by 10%
Meltdown (Trait D)
Hitting an enemy Hero with Pyromania reduces their damage dealt by 5% for 2.5 seconds, up to 30%.
Level 7
Crossfire (Q)
Hitting an emeny with both streams of Flame Stream deals 132 bonus damage.
Grill and Kill (W)
Quest: Damage enemy Heroes with Ignited Oil Spills 60 times.
Reward: Increase Oil Spill's Ignite duration by 2 seconds, and damage by 25%.
Incinerator Gauntlets (Passive)
Increase Basic Attack area by 15%, and Basic Attack damage to Minions, Mercenaries, and Monsters by 50%. Additionally, Basic Attack splashes Ignite Oil Spills.
Level 10
Bunker Drop (Mana: 40, Cooldown: 40 seconds)
After 0.5 seconds, deploy and enter a Bunker with 1300 Health. Blaze and his allies can enter and exit the Bunker at will. While in the Bunker, occupants gain access to Flamethrower, dealing 179 damage to enemies in a line.
Exiting the Bunker grants 25 Armor for 2 seconds. Bunkers last 10 seconds, or until destroyed.
Combustion (Mana: 70, Cooldown: 80 seconds)
Channel for up to 2.6 seconds. Upon ending, Slow nearby enemies by 60% and deal 48 damage to them every 0.5 seconds. Combustion's Slow and damage over time duration is extended the longer Blaze Channels, from 1 second up to 5 seconds.
Blaze's Movement Speed is reduced by 50% while Channeling.
Level 13
Suppressive Fire (Q)
Each stream of Flame Stream reduces the Spell Power of Heroes hit by 15% for 4 seconds, up to 30%.
Nanomachine Coating (W)
Enemies standing in Oil Spills have their Attack Speed reduced by 40% for 2.5 seconds.
Fuel Leak (E)
Jet Propulsion creates Oil Spills along Blaze's path. If Jet Propulsion impacts an enemy Hero, an additional Oil Spill is created underneath them.
Level 16
Therman Protection (E)
Each enemy hit by Jet Propulsion grants 10 Armor for 3 seconds and reduces its cooldown by 2 seconds.
Heat Treatment (Trait D)
Heal for 75% of the damage dealt by Pyromania
Juggernaut Plating (Active, Cooldown: 40 seconds)
Activate to gain 50 Spell Armor for 3 seconds. Upon expiration, gain a Shield equal to 100% of the Spell Damage reduced by Juggernaut Plating.
Level 20
Fortified Bunker (R1)
Occupants can cast Oil Spill from Bunker Drop every 6 seconds. Additionally, Bunker Drop's Armor bonus upon exting is increased by 25, and its duration by 1 second.
Flash Fire (R2)
While Channeling Combustion, Blaze's Movement Speed is no longer reduced, and nearby enemies are Slowed by 60%.
Burn Notice (Passive)
Basic Attacks Slow enemies by 5% and deal an additional 18 damage over 2.5 seconds. Stacks up to 5 times.
Abilità – dal sito ufficiale
Abilità Principali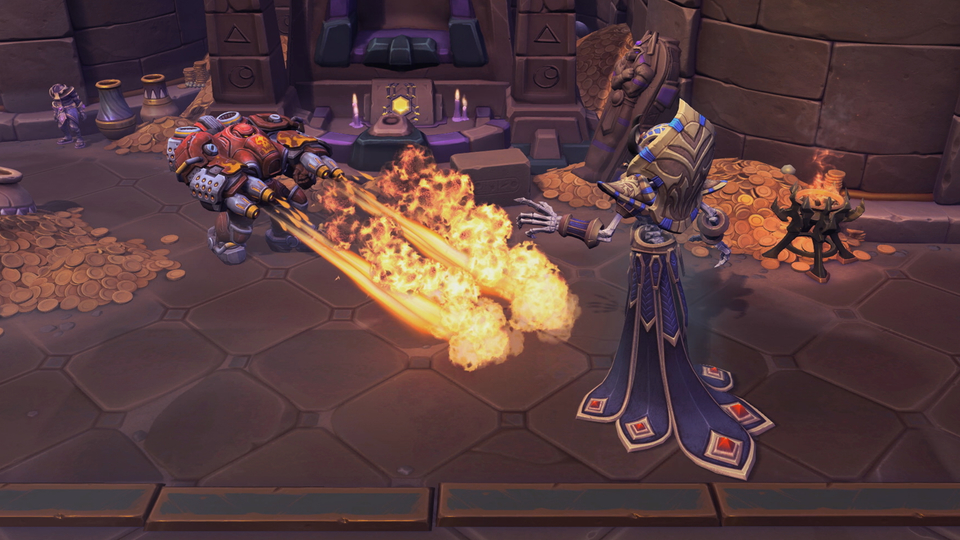 GETTO DI FUOCO
Emette due getti nella direzione selezionata, infliggendo 83 danni ai nemici colpiti. Getto di Fuoco incendia le Chiazze d'Olio con cui entra in contatto.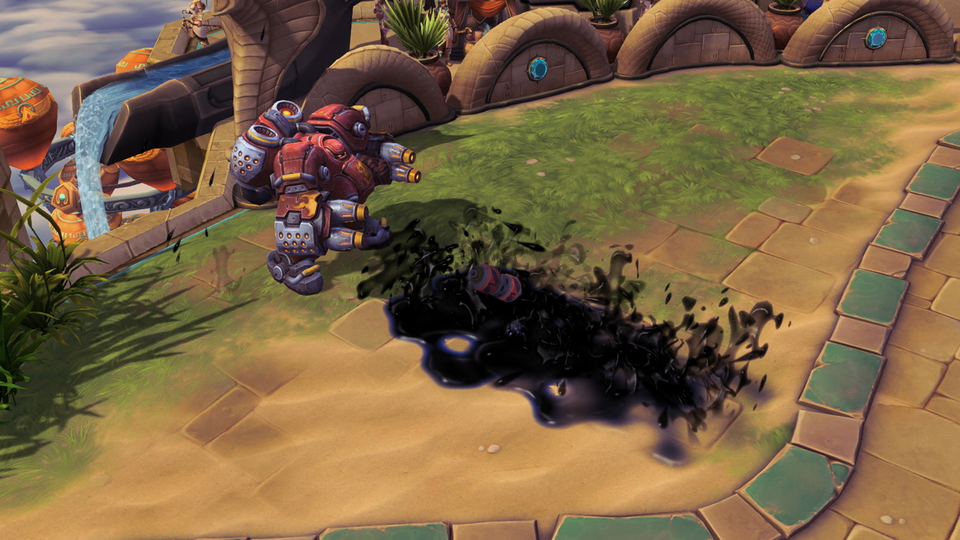 CHIAZZA D'OLIO
Puntamento vettoriale Sparge uno strato d'olio che dura 5 s e rallenta del 40% i nemici che vi entrano in contatto. Getto di Fuoco può incendiare Chiazza d'Olio per 2.5 s, infliggendo 18 danni ogni 0.3 s ai nemici al suo interno. Durante l'incendio, Chiazza d'Olio non rallenta più i nemici. Inoltre, Blaze rigenera 49 Salute ogni 0.3 s finché si trova all'interno di Chiazze d'Olio incendiate. Accumula fino a 2 cariche.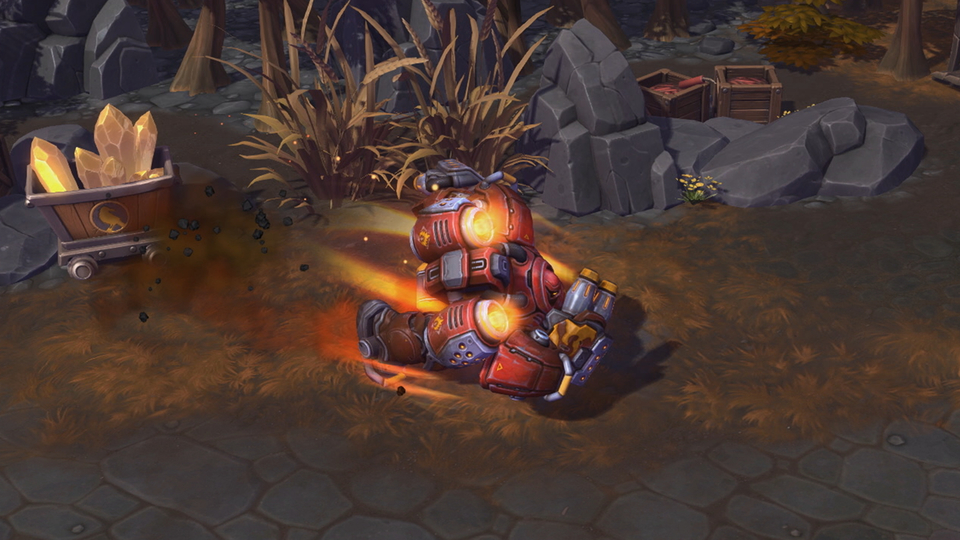 PROPULSORE
Dopo 0.5 s, Blaze carica in avanti. Colpire un eroe nemico infligge 52 danni a tutti gli eroi vicini e li stordisce per 1.25 s.
Abilità Eroiche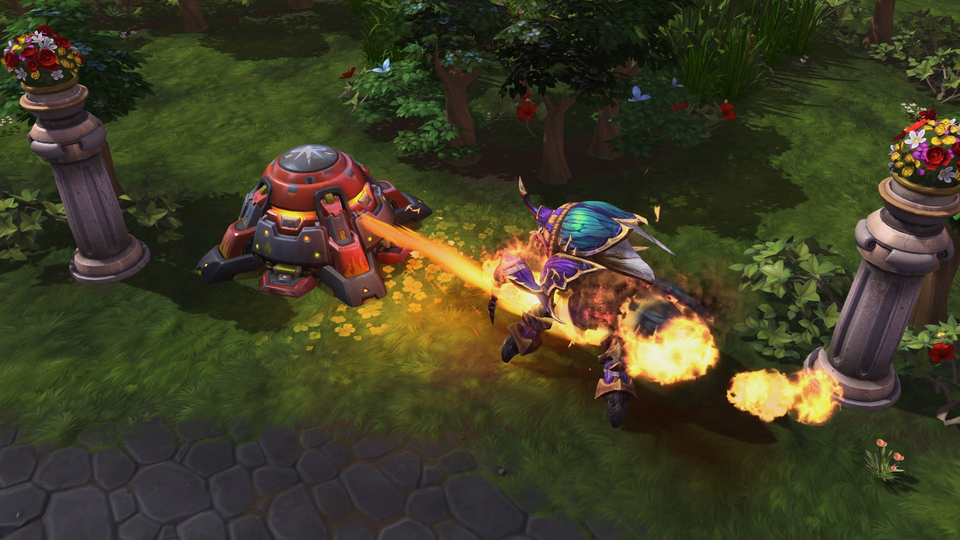 BUNKER
Dopo 0.5 s, Blaze evoca un Bunker con 1305 Salute in cui si rifugia. Blaze e i suoi alleati possono entrare e uscire dal Bunker a piacimento. Gli occupanti del Bunker possono attivare Lanciafiamme, infliggendo 179 danni ai nemici in una linea retta. Uscire dal Bunker fornisce 25 Resistenza per 2 s. I Bunker durano 10 s o fino alla loro distruzione.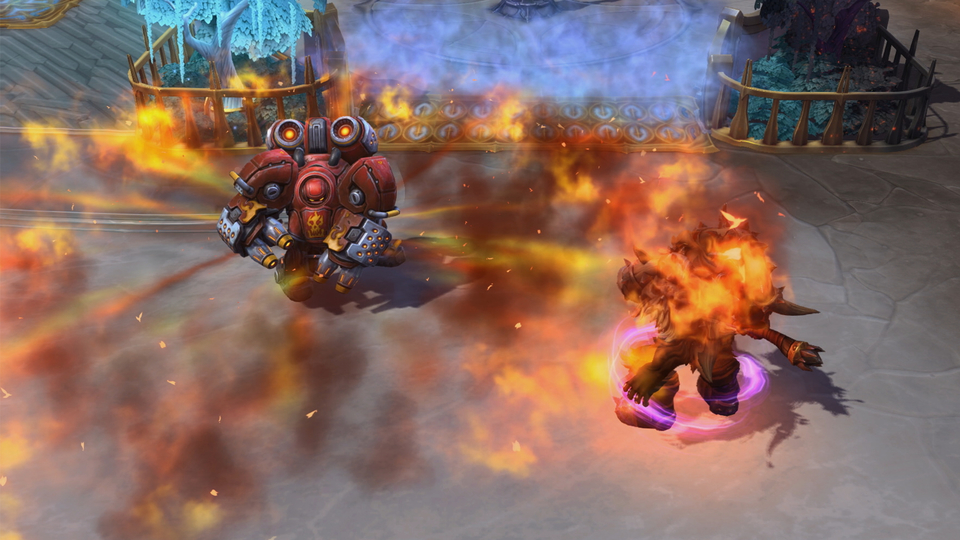 CONFLAGRAZIONE
Blaze incanala l'abilità per un massimo di 2.6 s. Al termine, rallenta i nemici vicini del 60% e infligge loro 48 danni ogni 0.5 s. La durata dei danni prolungati e dell'effetto di rallentamento di Conflagrazione aumenta a seconda dell'incanalamento, da 1 s fino a 5 s. Durante l'incanalamento, la velocità di movimento di Blaze è ridotta del 50%.
---
Blaze, ecco Talenti ed abilità del nuovo eroe di HotS
Gli articoli di questo sito sono stati realizzati utilizzando
Asus ROG G701