Nuova patch su Black Ops e nuova allerta Zombie su Verdansk
WhatsApp
Pochi minuti fa è stata rilasciata da Activision una nuovissima patch per Call of Duty Black Ops ed anche alcune nuove informazioni circa l'attesissimo evento che presto scatenerà la furia zombie in tutta Verdansk.
Sul sito ufficiale di Treyarch è stato infatti condiviso un nuovo post che rappresenta in tutto e per tutto un nuovo avviso per i giocatori, attraverso il quale Activision vuole mettere in guardia gli operatori dai pericoli e dai rischi provenienti nel settore in cui si è arenata la nave Vodianoy.
Nell'avviso si può chiaramente leggere che alle forze militari presenti in zona è raccomandata la massima cautela vista la presenza di molte forze ostili. Queste forze nemiche (gli zombie) vengono descritti dall'aspetto cadaverico, e senza apparenti funzioni cognitive. La cosa interessante però, è che al termine del messaggio si può leggere che "al momento queste minacce sembrano essere contenute principalmente nella zona meridionale del settore 5" e che "I modelli creati al computer hanno previsto che le attività anomale cesseranno entro breve termine" per cui "non è previsto un peggioramento della situazione"…
Ma noi sappiamo bene che la situazione è tutto fuorché controllata…e che presto assisteremo ad un'operazione tabula rasa con degli ordigni nucleari per contenere il virus in tutta Verdansk.
Ecco il materiale a disposizione dei giocatori al momento:
Post #2
Emergency alert system. Seek shelter in a safe space.

#Warzone https://t.co/7qtVfvI8ky pic.twitter.com/0Syc6HPDI0

— Raven Software (@RavenSoftware) March 11, 2021
Il testo pubblicato da Activision sull'evento in arrivo: 
Attention all Verdansk Operatives.
The Emergency Broadcast System has issued a minor contagion warning for the southeastern zone of Verdansk encompassing the miasma epicenter ("ghost ship" Vodianoy) as well as territories immediately east, including the Zordaya Prison Complex and surrounding areas. In addition, terrain reconnaissance scouts in conjunction with a multi-lateral Armistice air support squadron, have determined the existence of anomalies within this region of Kastovia. The following guidance has been approved for all military Operators working within the greater Tavorsk area:
You are recommended to exercise extreme caution: Reconnoitering within these newly confirmed anomalous zones may result in additional conflict, as speculative reports indicate secondary forces of unknown origin now residing both within the Prison Complex as well as the fully compromised Shipwreck points of interest.
Hostile forces are described as withered, exhibiting a cadaverous appearance, and lacking in contrastive cognizant function. Should you encounter these anomalous hostiles, no quarter should be given. Subsequently, a fighting withdrawal, immediate exfil and subsequent fumigation is recommended.
Alert: Containment Protocol Level has not been raised, as these threats appear to be mainly contained to the southern zone of Sector 5, and Operators in surrounding regions should proceed as normal. Computer models expect the anomalous activities to cease shortly, and a conflagration is not expected.
Stay frosty and execute the mission.
Di seguito andiamo invece a riportare tutti i dettagli relativi alle nuove note della patch, pubblicati pochi minuti fa dagli sviluppatori sul sito ufficiale, ed inerenti (oltre al resto) alla grande celebrazione della festa di San Patrizio, in arrivo nel multiplayer e disponibile nel gioco fino al prossimo 18 Marzo:
ST. PATRICK'S STOCKPILE
Get ready to go green! In celebration of St. Paddy's, we're launching the holiday-themed St. Patrick's Stockpile mode in Multiplayer today through 10AM PT, March 18th.
Eliminate your enemies and collect the Shamrocks they drop, grab as many as you can, and deposit your stash at the Pot o' Gold to earn points for your team. The first team to hit the score limit wins, but be careful… you'll drop your entire stockpile if you go down!
Keep an eye out for our more classic take on Stockpile arriving next week after St. Patrick's Day has come and gone. We're huge fans of this mode, and hope you enjoy it as much as we always have since it was introduced in Black Ops III as Fracture.
PROP HUNT UPDATES INCOMING
Prop Hunt is taking a short break while we refresh the prop selection on our existing maps and add support for two more maps later in the season: Satellite and our next 6v6 map, Miami Strike. Face Off and Gunfight Blueprints also return to the Featured Playlist rotation this week.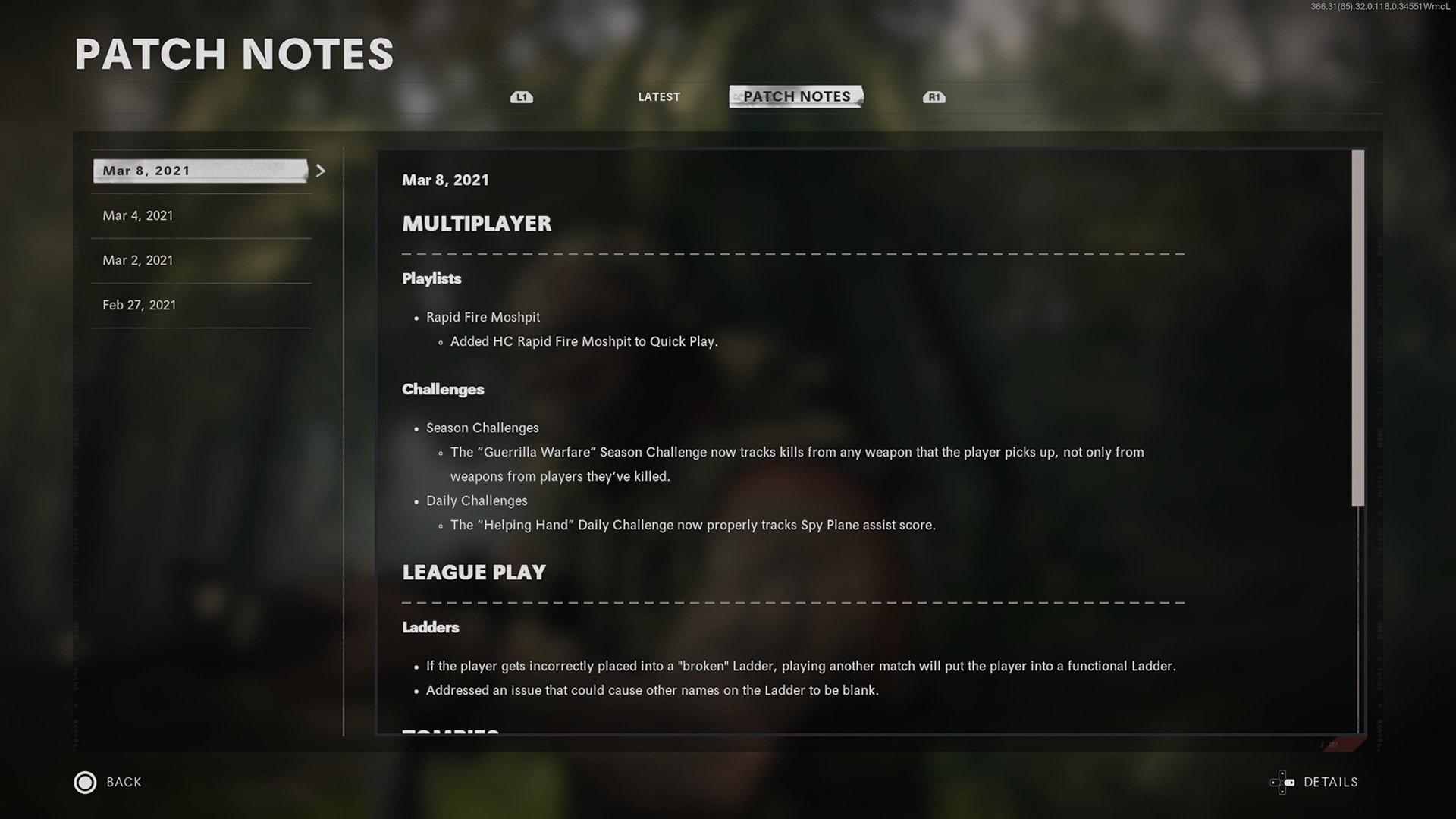 IN-GAME PATCH NOTES
Players will also now see the new Patch Notes tab at the Message of the Day screen, keeping everyone up to date on the latest additions to the game. Simply navigate to the set of notes you'd like to read and scroll through to see what's new.
Today's update also includes new fixes and gameplay improvements for Zombies and League Play, a new UI feature in Create-a-Class, and more. Here's what's included:
GLOBAL
Create-a-Class
Added dynamic icon attachments feature to Create-a-Class. Icons will now update to correspond with the attachments equipped by the player.
In-Game Patch Notes
Players can now view the latest patch notes in-game in the Patch Notes tab at the Message of the Day screen.
MULTIPLAYER
Modes
St. Patrick's Stockpile

New St. Patrick's Day-themed mode now available in Featured Playlists.
Eliminate enemies to pick up Shamrocks and deposit your stash at the Pot o' Gold to earn points for your team.
First time to reach the score limit wins.
Featured Playlists
St. Patrick's Stockpile [NEW]
Gun Game
Nuketown 24/7
Snipers Only Moshpit
Gunfight Blueprints
Face Off
LEAGUE PLAY
Scoreboard
Addressed an issue where the player couldn't scroll over to other players in the in-game scoreboard.
ZOMBIES
Featured Playlists
Outbreak
Firebase Z
Die Maschine
Dead Ops Arcade: First Person
Dead Ops Arcade
Onslaught (PS4/PS5)
Onslaught Nuketown (PS4/PS5)
Onslaught Apocalypse (PS4/PS5)
Outbreak
Challenges

Players can now properly complete the "Treasured Weapons" Challenge.

Objectives

Addressed an issue where the player was unable to load the canister during the Retrieval Objective.

UI

Addressed a UI issue where the timer display could overlap with the Objective display.
Perks
Addressed an issue where the player could be stuck in last stand using Quick Revive Tier V.
Ammo Mods
Addressed an issue where Dead Wire was incorrectly stunning Elite enemies.
Support
Addressed an issue where the player could apply Pack-a-Punch stats to the Death Machine.
– Treyarch
Cosa ne pensate community?
La discussione, come sempre, è assolutamente aperta!
Articoli correlati: 
---
Nuova patch su Black Ops e nuova allerta Zombie su Verdansk
Gli articoli di questo sito sono stati realizzati utilizzando
Asus ROG G701