Call of Duty: come ottenere le ricompense di Twitch
WhatsApp
Attraverso un nuovo update pubblicato su Call of Duty, è stato reso noto che saranno presto disponibili delle nuove ricompense esclusive per i giocatori di Modern Warfare.
Come segnalato dagli sviluppatori, dal 9 al 16 Luglio sarà infatti attivo un evento che celebrerà la quarta stagione del gioco, e lo farà anche attraverso degli speciali Twitch Drops che potranno essere usati sia in Multiplayer che in Warzone.
Per partecipare all'iniziativa, basterà collegare il proprio account Activision alla piattaforma Twitch (direttamente dal menù account) o, in caso di collegamento avvenuto in precedenza, converrà rimuovere il collegamento e rifarlo da capo, cosi da essere sicuri di avere tutte le idoneità del caso per poter riscattare il premio.
Purtroppo però, sembra che l'iniziativa sia al momento tempestata di errori e problemi, con moltissimi giocatori che hanno segnalato l'impossibilità di collegare gli account e di ricevere le consecutive ricompense.
Alla pubblicazione di questo articolo non vi sono però state novità da parte di Activision riguardo ad hotfix o simili per risolvere questi problemi, ma non appena possibile provvederemo a pubblicare nuovi e più dettagliati aggiornamenti.
Per quanto riguarda i premi, riceveremo delle ricompense semplicemente guardando uno degli streamer ufficiali dell'evento…seguendo lo show su Twitch per un'ora, riceveremo lo spray "Censory Overload", mentre continuando a guardare per 2 e 3 ore avremo anche diritto all'emblema Love the Bomb ed il  "Bloodstream" del Grau 5.56:
Call of Duty Twitch – Ricompense (post ufficiale)
Step 1: Get a Call of Duty Account
Registering for a Call of Duty account is a relatively easy process that gives you some awesome benefits. Accounts make it possible for cross-play to be enabled in Modern Warfare including Warzone. Plus, you can get the latest intel and personalized stats.
Get an account by going here. If you already have an account, you're all set.
Step 2: Link and Re-link
Once you have a Call of Duty account, connect it to your Twitch Account, so you can start earning!
Go here to link your Call of Duty and Twitch accounts.
If you already have a Twitch account linked, you may need to re-link. Re-linking ensures you have enabled the correct permissions, so you can earn rewards.
Go here to re-link your Call of Duty and Twitch accounts.
Step 3: Watch and Earn
Then, you'll need to head to Twitch and get a look at the streamers who are playing Modern Warfare including Warzone in the Modern Warfare category. On drop eligible streams you'll see a callout that "drops are enabled", so you know you are officially watching and earning. From there, click the stream and enjoy the gameplay.
You can watch multiple streamers or one stream but as long as they are "drop eligible" your total watch time will be tallied up, so you can earn rewards.
Are you a Twitch streamer? If you'd like your stream to be eligible to earn rewards follow steps one and two, then make sure you are streaming on the official Modern Warfare Twitch directory.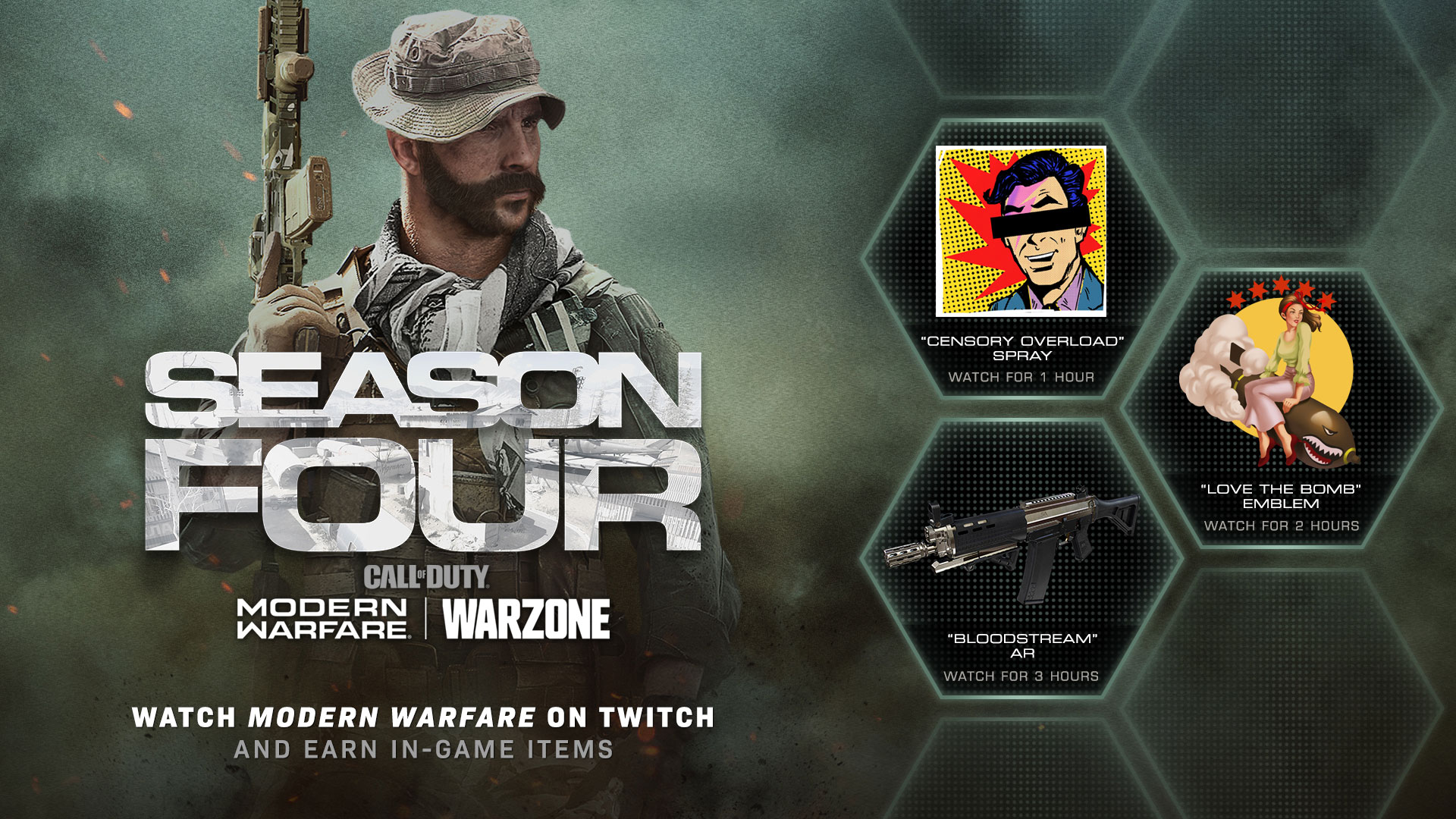 Step 4: Get the Goods
So, you've watched some awesome gameplay and want to know what's headed to your inventory? Details below:
Watching 1 hour – 'Censory Overload' spray
Watching 2 hours – 'Love the Bomb' emblem
Watching 3 hours – 'Bloodstream' assault rifle weapon blueprint
The 'Bloodstream' is well-controlled and accurate configuration of Assault Rifle Juliet. Ideal for mid-range engagements in Multiplayer and Warzone, handle waves of enemies with ease thanks to the Sleight of Hand weapon perk for fast reloads and the Tac Laser to easily aim from the hip.
Want more details on Season Four? Read the complete overview on the Games Blog. Plus, find extensive map overviews, Operator bios, weapon blueprint reviews, and more.
Need more intel on Warzone? Check out the FREE Official Warzone Strategy Guide featuring over 250 tips, in-depth game mode profiles and strategies, loadout suggestions, and interactive atlas with over 300 points of interests, and more on CallofDuty.com
See you online.
Per quanto riguarda gli altri hotfix, si segnala che lo scorso 9 Luglio è stata pubblicata una breve ma importante lista di note della patch, con tutti gli ultimi interventi operati dagli sviluppatori nel titolo.
Tra gli errori risolti vi è ad esempio quelli che stavano caratterizzando il Rytec AMR, i giocatori AFK, più alcuni altri piccoli fix che riguardano vari aspetti di Warzone…ecco la lista:
Fixed the Rytec AMR's inability to be awarded typical XP while using explosive rounds
Fixed issue where Rytec AMR could one-hit kill when using explosive rounds in BR
Fixed Rytec AMR's Fully Loaded gun perk's issues when using alternate ammunition
Fixed "incorrect text" on one of the SUV camos
Fixed bug where Counter UAVs could be found in Warzone
Fixed bug where players couldn't use Field Upgrades in FFA
Fixed bug where players could remain AFK without being kicked when playing All or Nothing
Articoli correlati:
Gli articoli di questo sito sono stati realizzati utilizzando
Asus ROG G701
WhatsApp