Play Live, Battlefield 2042 e Battlefield 1942 si incontreranno in BF PORTAL: "sarà un nuovo modo di giocare agli sparatutto"
Facebook
WhatsApp
Battlefield PORTAL – Un modo del tutto nuovo di vivere l'esperienza all'interno degli sparatutto, quella che sarà presto disponibile con l'uscita del titolo Battlefield 2042!
Nel corso della diretta dell'EA Play infatti, abbiamo scoperto i primi dettagli riguardo a questa nuova gigantesca modalità che andrà a raccogliere tutti i Battlefield della storia, in un unico e solo campo di gioco (sarà disponibile dal day 1, ndr). Secondo quanto riferito dagli sviluppatori infatti, con Battlefield Portal si potranno provare molteplici esperienze di gioco, le cui regole saranno sempre decise dai giocatori.
Potremo quindi decidere di giocare in un Deathmatch classico, cosi come in una modalità "scorta il VIP", ma potremo anche scegliere quali armamenti saranno consentiti nella lobby, e finanche da quale gioco della galassia di Battlefield dovranno provenire i protagonisti.
Non sarà quindi raro vedere una squadra di giocatori di Battlefield 2042 assaltarne una di player che invece giocano con armi e personaggi di Battlefield 1942 (o di uno qualsiasi degli altri titoli di EA), ed anche il numero dei giocatori delle squadre si potrà scegliere prima (dal video trailer si vede una sfida di 4 contro 32 ad esempio…): sarà tutto estremamente personalizzabile, una vera e propria esperienza "completa" che potrà prendere le sembianze che preferiscono i giocatori.
Battlefield 2042, note dolenti dai tester: "i Tornado alla lunga stancano, e sono ripetitivi"
Vediamo di seguito il trailer in questione, e la notizia ufficiale con tutti i dettagli pubblicati da EA (non appena disponibile, pubblicheremo il testo in italiano).
Il trailer di Battlefield PORTAL 
Le note ufficiali
"Battlefield Portal is a love letter to fans and creators," says Senior Design Director Justin Wiebe of Ripple Effect Studios™ (formerly known as DICE LA) "This creative suite will give the community more opportunity than ever before to create their own spin on the Battlefield experience."
DISCOVER. CREATE. SHARE.
With Battlefield Portal, we are aiming to put as much power as possible in your hands, allowing you to create your own signature Battlefield experiences that you've always dreamed of playing. It's really up to you: discover, create, share. To allow you to do this, Battlefield Portal comes with game-changing Settings that will allow you to build the experience you want.
As an example of what you can do with the Settings, here's a small selection you can use in Battlefield Portal at launch.
Factions – for the first time in franchise history you can battle across different Battlefield eras, choosing which soldiers, weapons and vehicles can compete on the battlefield.  Want to pit an 1942-era team against foes outfitted with modern weapons and tech? Go for it.
Mobility – using Battlefield 2042's Settings, you can disable/enable players' ability to Aim Down Sights, go prone, and more. We're giving you the options that allow you to play these Battlefield experiences as authentically as possible or to instead enjoy them with the conveniences of modern gaming experience. For example: If you want a more authentic Battlefield 1942 experience, you can switch off sprinting and disable health regeneration.
Visibility – if you want to create a more Hardcore mode experience for your players, why not disable everyone's Heads' Up Display (HUD) and the minimap?
Arsenal – Tired of getting dusted by sniper rifles or blown to pieces by tanks? You will be able to restrict weapons, specialists, gear, and vehicles that players have access to in your match.
Scale – You can control the max number of players for each team as well as which weapons everyone has access to, creating as much balance or chaos as your heart desires. Why not pit 10 players armed with assault rifles against 50 players armed only with knives? Go wild.
And this is just only a tiny portion of the options you'll be able to adjust with these Settings. There will be some limitations such as not being able to build a Battle Royale mode (yes, we knew you would ask). But we mainly look forward to seeing you discover what's possible with all these options at your fingertips.
From more tactical, realistic simulations to off-the-wall battles, the power is yours to shape Battlefield's playground. There are many more Settings that will be available at launch and we can't wait for you to discover them and to see the kind of experiences you can create.
COMMUNITY EXPERIENCES
In Battlefield Portal, you will be able to create Experiences for other players to join where you can run custom games or preset modes, such as Conquest, Team Deathmatch, Rush, and other fan-favorites available at launch. When creating Experiences, you can also add AI Soldiers as a team or select to use them as backfill, meaning when you launch the experience, AI will fill out that match (though you can opt out of using AI Soldiers entirely in Battlefield Portal).
Community Experiences are created when you make a match, and will remain online while the Experience has players active. At launch you can also expect basic Admin Tools usable by creators of Experiences, such as the ability to ban usernames which continue across Experiences you create.
If you end up liking another player's Experience, you can Follow that player to keep track of when they're running matches. As a creator, you'll be able to share your own creations and give others permission to build upon them with their Settings and logic edits (more on that below). Some of the most creative and popular player-created Experiences will be featured in official curated playlists, making it convenient for you to find fun and inventive new matches the moment you load into Battlefield Portal.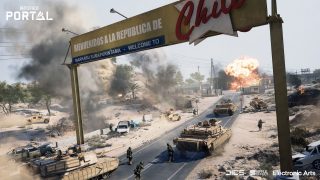 CREATE YOUR EXPERIENCE
One of our biggest goals with Battlefield Portal is to give you the freedom to explore Battlefield your way by letting you create your own Experiences . For those who wish to go beyond the multitude of Settings, Battlefield Portal will also have a Logic Editor that lets players use streamlined visual scripting logic to have even more control when it comes to creating your experiences. While anyone can use the Logic Editor, it's aimed at those who have prior knowledge of visual scripting logic.
While the Settings will allow you to change many specific conditions with the flick of a switch, the Logic Editor will let you define rules, victory conditions, consequences of specific in-game events (like setting a reward or punishment for a player scoring a kill), and even more to create custom game modes that aren't possible to create with the Settings alone. 
Battlefield Portal's Logic Editor will give you more options than ever when it comes to creating your own Battlefield experience, letting you set victory conditions, team scale, and more.
You'll also have the ability to share your Experiences with the community through an Experience Link (a URL), giving fellow players the power to share that Experience or even remix it with their own additions.
"Seeing the flexibility and wide variety of things players can do when they know how to use Battlefield Portal's builder…it's just kind of astonishing," says Senior Game Designer Rob Donovan.
We look forward to telling you more about the Logic Editor in the coming months.
PROGRESSION
Battlefield 2042's progression is synchronized and will allow you to contribute to your experience gains by playing throughout the various available game modes
We'll be talking lots more on progression later this year, so stay tuned!
REIMAGINED CLASSICS
Alongside the creative suite, Battlefield Portal will also launch with reimagined content from 3 of Battlefield's most popular entries. This content includes more than just the maps themselves but also brings over weapons, gadgets, vehicles, factions, and classes from each respective game — all reimagined at the visual standards of Battlefield 2042. Long-time Battlefield fans will once again be able to take up their M1 in a fully reimagined Battle of the Bulge or shoot across the sky in a F/A-18 Hornet at the Caspian Border.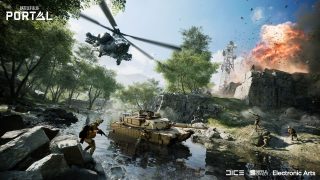 Battlefield Portal will allow you to relive some of the series' best moments in stunning new visual detail or use weapons, gear, factions, and maps from those games to build your own experiences.
You will also be able to use Battlefield 2042's full arsenal of Specialists, vehicles, gadgets and weapons in Battlefield Portal to help you build unique experiences.
Here's the full roster of reimagined maps that will be available at launch:
Classic Maps
Battle Of The Bulge (Battlefield 1942)
El Alamein (Battlefield 1942)
Arica Harbor (Battlefield: Bad Company 2)
Valparaiso  (Battlefield: Bad Company 2)
Caspian Border (Battlefield 3)
Noshahr Canals (Battlefield 3)
In addition to the classic maps, Battlefield Portal's eras will also feature fan favorite weaponry such as the M1 Garand (Semi-Automatic Rifle) and the M416 (Assault Rifle) weapons. Classic vehicles such as the Spitfire and B17 Bomber will also make their return to the Battlefield franchise. We'll be including a wide array of gear and soldiers that will be reimagined at Battlefield 2042's visual fidelity too.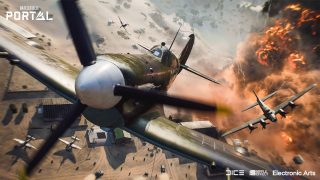 Battlefield Portal will allow you to mix eras against one another, letting you create new and wild Battlefield experiences. Ever wanted to see a dogfight between some Spitfires and a helicopter? Making it happen is as easy as tweaking some options in Battlefield Portal's Settings. It's your playground: Go wild.
Below is a top-level look at what you can expect to use when Battlefield 2042 launches later this year. Within Battlefield Portal, you will be able to use everything listed as tools to craft new modes and experiences using Battlefield Portal's Settings and Logic Editor.
Weapons:

40+ Weapons from 3 Theaters of War;
M1 Garand, Panzerschreck, G3, M416 and more
Plus the inclusion of Battlefield 2042's All-Out Warfare Arsenal.

Vehicles:

40+ Vehicles from 3 Theaters of War;
The Spitfire and B17 Bomber make their return alongside modern hardware such as the Quad Bike and Little Bird.
Plus the inclusion of Battlefield 2042's All-Out Warfare array of vehicles.

Gadgets:

30+ Gadgets from 3 Theaters of War;
Reconnaissance items such as the MAV and Radio Beacon will be available as gadget selections alongside the Defibrillator and EOD Bot!
Plus the inclusion of Battlefield 2042's Gadgets.

Armies

Classic Factions will be making their return in Battlefield Portal as you remember them, allowing you the ability to mix and match between 7 different armies from the Classic titles as well as Battlefield 2042's Specialists.
Armies such as 1942's UK, US, and Germany as well as Bad Company 2's US and Russia will feature exclusively in Battlefield Portal.

Soldiers

The return of Factions to Battlefield Portal, we will also mean that we are bringing back soldier archetypes as you know them to be within their relevant titles. As an example, Battlefield 3's Assault, Engineer, Support and Recon roles make their return in Battlefield Portal.
Alongside all of this reimagined content, Battlefield 2042's weapons, vehicles, gadgets, and Specialists will be usable in the creative suite, giving you even more content to build or discover as you explore the many possibilities within Battlefield Portal.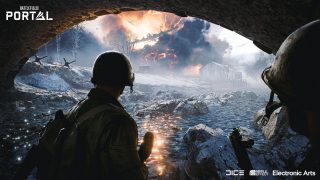 "We wanted to modernize these experiences but remain true to the original intent that the level designers had," says Senior Producer Kristoffer Bergqvist. "What did people love back then? What do they love today? We spent so much time looking at forum posts to see what maps people remembered fondly. We talked to the original designers about what we should bring back. We pretty quickly landed on El Alamein and Battle of the Bulge as something we wanted to not only play, but also experience again."
Bergqvist says the enhancements afforded by the Frostbite engine have made these versions of Battlefield 1942's maps even more intense and faithful to DICE's initial ambitions over 20 years ago.  "Destruction in Battle of the Bulge is so cool. We are being true to what the original designers had in mind. We're just able to go further now, and seeing that is awesome."
LIVE SERVICE
We envision Battlefield Portal to be a powerful platform driven by the community's sense of creativity and wonder. Through our live service we intend to continue delivering updates for you to use as tools to build and share your experiences or to discover as you peruse Battlefield Portal. We're looking forward to seeing the thrilling experiences you'll be creating! Once it's in your hands, stay in touch and let us know what's fun for you and what other features you'd love to see in the future.
With continued updates delivered through Battlefield 2042's live service, such as new Specialists, maps and weapons, we have the intent to make them available in Battlefield Portal. "As we add new updates to Battlefield 2042, they will be available for Battlefield Portal players and creators, giving them even more options to create the kind of the experiences they desire as the game grows," Bergqvist says.
Battlefield Portal launches as part of one of your three core experiences included in Battlefield 2042 on October 22, 2021 on Xbox Series X|S, Xbox One, PlayStation®5, PlayStation®4 and PC. You can find out more about Battlefield 2042 here.
DEV CORNER
Hey folks, welcome to the dev corner! Grab your favorite beverage and pull up a seat while we have a chat with Rob Donovan, Senior Game Designer at Ripple Effect Studios for Battlefield Portal. Let's dive into just what goes on behind the scenes in game development.
Hey Rob. Tell us a little bit about yourself. How did you get started making games?
Hi! I'm Rob Donovan. I'm a Senior Game Designer at Ripple Effect (formerly known as DICE LA). I've been here for almost four years, and now I'm working on Battlefield Portal!  When I was a student at The University of Southern California, I started taking as many classes as I could. After that, I bounced around in QA for quite some time, where I spent as much time as I could around developers and learning the lingo. I got my lucky break in New York City with Kaos, working on Homefront.
How did you go from QA to Senior Game Designer?
After Kaos, I did some level design on Dead Space 3. From there, I worked on Battlefield Hardline. After that shipped, I made a multiplayer map. It was a wild experience and I had a great team around me that was able to shepherd me through my rookie mistakes, and ultimately I was pretty happy with what I had made. I went on to be a Systems Designer on Hardline's expansion packs, helping with game mode stuff. I eventually ended up at Ripple Effect when it was still DICE LA.
What about as a player? I imagine you were a fan before you worked on the series.
In multiplayer games, I tend to play support roles. I'm always the medic. I'm always trying to run around behind people and get those revives. In Battlefield there's so much chaos going around that it's a real riot to play support — to lift someone up and then watch them go knock off a bunch of headshots in a row. For me, that's what I love to do in games. I want to feel like we're cooperating as a team. When you get in a good squad that's calling things out, that's pinging and spotting, you sort of feel like single-handedly you're changing the course of the match. In Battlefield it's never really about individual marksmanship, it's about squads working together. When it clicks, it's like nothing else.
What feature are you most excited about in Battlefield Portal?
I'm excited about the whole dang thing, but if I had to choose, I think I'd say it's the ability to change gameplay values with the Logic Editor. Classic Battlefield has always been about the interplay between soldiers and vehicles, and of course we have the ability to restrict weapons or gadgets quickly and easily.
But when you set up logic in Battlefield Portal, you can make a game that reacts to what the players do during a match, whether it's giving the losing team a boost or making one player the Juggernaut. You can do all sorts of stunts and create game modes that are wildly different from classic Battlefield. We know that there will be ample opportunity to engage in All-Out Warfare, and with Battlefield Portal we're hoping to give you the tools to create a huge variety of games in addition to that. So I'm really excited to see what people come up with!
You've been working on Battlefield a while. What interests you most as a developer about the franchise?
Whenever a Battlefield game comes out it has a huge passionate fanbase that devours the kinds of things you make as a developer on one of these games. As a developer, it is the absolute top. The opportunity to work on Battlefield means working at the height of your powers with a huge team of incredibly talented people that are pulling off amazing feats. Getting to be  a part of this earth-shaking, ground-breaking game is really exciting and I'm really excited about the part we're making in Ripple Effect as well. With Battlefield Portal, we're doing something very different — both for the Battlefield franchise and the game industry as a whole. There is a lot of potential here for us to change the landscape, surprise you, and hopefully give you all the tools to make incredible Battlefield-esque experiences. We're letting you run wild on this one! I can't wait to see what you make.
Anything you'd like to say to the community?
Thank you for all your support. I hope what we're doing with Battlefield Portal shocks you…in a good way! Developing a new Battlefield game is a real high-wire act. We know the expectations are high and we're trying to do our very best to make something that will absolutely blow you away. I hope you enjoy what we've made here, and I hope you come along for the ride and help us establish what the future of Battlefield Portal looks like!
And that's all we have today for Battlefield Portal. We look forward to seeing the wild, unforgettable experiences you will create with this toolset and the materials we'll be providing in Battlefield 2042.
Stay safe, No-Pats.
Cosa ne pensate community? 
La discussione, come sempre, è assolutamente aperta!
Articoli correlati: