Solo lo 0.20% dei player è un livello Master/Predator di Apex Legends
WhatsApp
Apex Predator – Gli sviluppatori di EA Games hanno pubblicato i dati aggiornati relativi alle statistiche ed ai numeri della settima stagione competitiva, ora che ci prepariamo al passaggio all'attesissima prossima e numero 8.
Osservando i dati scopriamo quindi che dei giocatori totali la maggior parte staziona al rank Gold, ovvero poco più del 30%, mentre i giocatori Platinum e Silver (rispettivamente il livello più alto e più basso del Gold) sono in entrambi i casi poco più del 23%.
Pochissimi i Diamond, che occupano solamente il 4.37% (anche se sono in netta salita rispetto ai numeri della Season 6 dove erano meno del 2%) mentre sono ancora meno i Master/Apex Predator, che sono solamente lo 0.20% del totale (in rialzo rispetto allo 0.12% della scorsa season).
Tra le novità i devs hanno anche anticipato alcune di quelle che riguarderanno la Season 8, come il fatto che le partite al rank Master saranno maggiormente bilanciate o il fatto che otterremo più ricompense in RP dalle sfide classificate. Per fare un rapido esempio, è stato alzato a 10 il numero di secondi entro il quale possiamo ricevere un assist dopo che un altro giocatore ha killato un bersaglio da noi precedentemente colpito (ora è a 7 secondi e mezzo).
Infine, sono state anche mostrate le ricompense ufficiali che verranno aggiunte alle collezioni dei giocatori una volta terminata la Season 7…ecco tutti i numeri ufficiali e le ultime informazioni pubblicate in merito sulle classificate.
Predator Apex Legends – Informazioni classificate Season 8
As of 1/21/2021, we have the following distribution among players in Split 2 who played more than 5 hours of Ranked (versus Season 6):
16.35% Bronze (17.76%)
23.86% Silver (26.23%)
32.09% Gold (36.25%)
23.13% Platinum (17.75%)
4.37% Diamond (1.89%)
0.20% Master & Apex Predator (0.12%)
In Season 7 we saw higher player counts and more playtime than previous seasons. This resulted in a healthy spread of players across all ranked tiers, with a notable increase to population in Platinum and higher tiers. We're seeing ranked matches taking between 30% and 40% of all games played depending on time of day, region, limited time mode availability, and time since the last reset.
SEASON 8 RANKED CHANGES
A consistent and on-going goal for the Apex Ranked team is to ensure competitive integrity through skill-based matchmaking. For Season 8, we are taking a bigger swing at some of our goals, while taking into account a lot of feedback from the community.
Some of these goals for Season 8 are:
Create a healthier top end in Diamond+. Diamond, Master and Predators are reserved for the best of the best. We don't want to change that. But, we do want these players competing against more players of similar skill, more often. In previous seasons, the player pool in Diamond+ was too small to consistently provide fair matches, so we aim to improve this by providing more opportunities for good players to earn RP.
Improve match quality for ranked matches. This means we are aiming to fill most, if not all, of players in your Ranked match with players in the same rank tier. This may cause slightly longer queue times, but more competitively fair matches. We think this is worth it, and we'll monitor queue times and sentiment closely around these changes.
Here's the details of changes to the RP system designed to support these goals:
Earn placement RP earlier in a match

RP rewards begin at placement 13 instead of 10 in a match.

Kill/Assist count has been raised to 6

Earn RP for more of your kills and assists in a given match.
This is a slight nudge to give really good players a slightly faster trip back to their competitive rank, while giving our top tier players more ways to pull ahead of the pack in the Predator ranks.

Assist Threshold Increased to 10 seconds

Earn assists for up to 10 seconds (up from 7.5 seconds) after dealing damage to a target that is killed by someone else.

Predator has been increased to the top 750 players

Allowing more players to enter predator should improve queue times while remaining an exclusive tier for the highest levels of play.

Matchmaking Tightening

Players below Diamond will matchmake much more often within their own Ranks.
Finally for Season 8 we're excited to announce that Diamond Skydive Trails will be making a return as a ranked reward!
We always want to reward competitive players for the time you invest in Apex Legends and we hope accelerating the earnable RP will allow you to climb a little higher or give you the motivation to push for that next tier.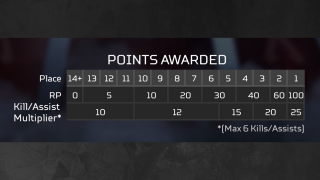 SEASON 8 RANKED MAPS AND SPLIT DATES
Kings Canyon crashes back into the scene for the first split which ends March 23th, 2021. The second split will take us back to Olympus for the remainder of the Season.
World's Edge is taking a break from ranked play but will return in a later season.
SEASON 7 REWARDS
Here's a preview of all the Season 7 ranked rewards you'll be earning when the Season swaps over: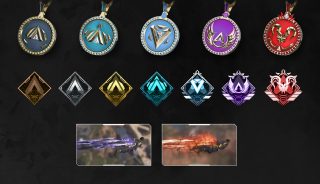 FINAL WORDS
We'll keep an eye on these adjustments and the impact they have on the ranked progression and health within the tiers. Thanks for playing and good luck out there, Legends!
Cosa ne pensate community?
La discussione, come sempre, è assolutamente aperta!
Articoli correlati: 
Gli articoli di questo sito sono stati realizzati utilizzando
Asus ROG G701
WhatsApp